Worldwide Business Review Magazine announces the winners of the Consulting Elite 2018 awards. The Consulting Elite 2018 award was launched by Worldwide Business Review Magazine to showcase the businesses that work hard to offer clients the very highest standards of service and support within the competitive Consulting industry. This award was judged purely on merit by our in-house teams with all potential winners assessed against multiple relevant criteria, including previous accolades won, company performance over a given period of time, influence within the industry, sector or region and client testimonials or recommendations. To find out more about this digital magazine, please visit http://www.wwb-review.com where you can view both our latest and previous editions of the magazine.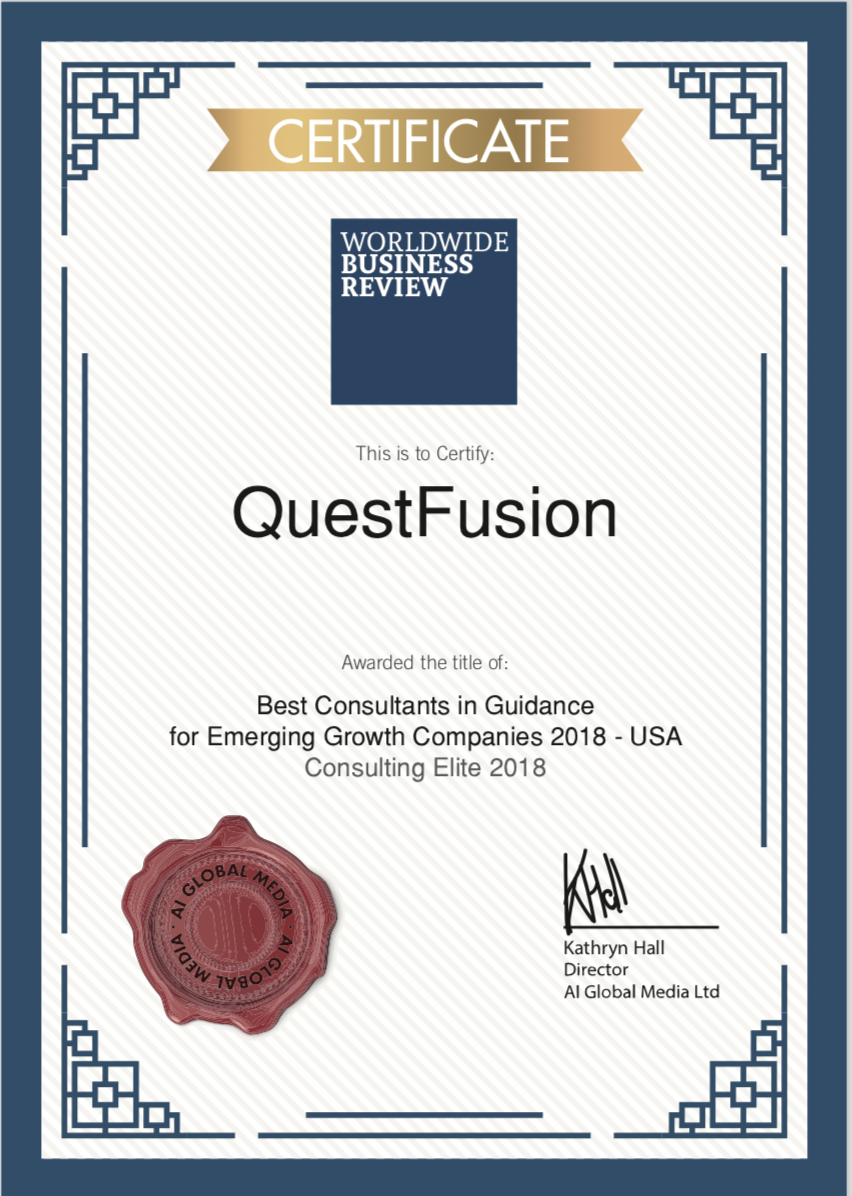 "Everyone at Worldwide Business Review are delighted to award QuestFusion with the prestigious title of Best consultants in guidance for emerging growth companies 2018. Our award programs are created to showcase the best of the best within any given business sector. They have been awarded this for their fantastic work ethic and customer service, always maintaining a professional profile. I personally wish them the best in their future endeavors and hope for great things in their future," said Emily Corner, Media and Features Executive at Worldwide Business Review. Ms. Corner went on to say, "Patrick is at the helm of this company and without his guidance and support it wouldn't be possible for us to present this award to QuestFusion. With a business only being as good as its leadership, we can see why this award has been given."
"We are honored by this recognition of QuestFusion's leadership in guiding emerging growth companies to greater success by Worldwide Business Review", said Patrick Henry, CEO of QuestFusion. "I love working with entrepreneurs, and want each of my clients to be one of the next great startup success stories."
About Worldwide Business Review Magazine
Globally there are many regulations, legislations and challenges facing companies as they try to offer the very highest standards to their clients whilst maintaining profitability and success. As such, leveraging the insight and contacts it has from being part of the publishing company AI Global Media, Worldwide Business Review aims to provide insight, information and comment on the world's leading businesses and the individuals driving them.
Free to subscribe to, the publication offers a dedicated newsletter, an ever evolving website and a series of awards designed to showcase the hard work and commitment of businesses from every market and every region. Keeping pace with the ever changing corporate landscape around the world, Worldwide Business Review dedicated editorial team work diligently to provide the latest news and updates, drawing on their network of contacts from across the globe who span every major industry and sector, providing comment and insight which is invaluable.