PLAN COMMIT WIN:  90 Days to Creating a Fundable Startup is a book that I have had locked inside of me for years.  It is focused on the processes and practices of building successful businesses, and how to present information and convince prospective investors to make a win-win investment in your company.  This is not a pie-in-sky or theoretical approach to running businesses and raising capital.  It is the same process that I have used to build successful businesses, raise over $200 million in equity capital for my companies, and execute over $2 billion in M&A transactions.
I've spent the last year creating the content and building the online platform to launch the book.  The process I describe should take entrepreneurs no more than 90 days to complete, assuming they are starting from scratch.  PLAN COMMIT WIN® can also be used as a screening tool to see what components may be missing from an entrepreneur's process, plan, or pitch.
I'm incredibly excited about this project, and proceeds from the Kickstarter campaign will help to offset some of the costs for creating this much-needed book for the startup community!
Why PLAN COMMIT WIN® Is Needed Now
During the past few years, I've had discussions with dozens of founders and CEOs as an advisor to startups through my firm QuestFusion.  In these discussions, I frequently ask, "What do you lose sleep over?"  The most consistent answer is "Raising my next funding round."  This is understandable.  Having sufficient cash for product development and driving the growth of the business is one of the most important jobs of a startup CEO.  In my experience, there is a hierarchy of requirements for raising outside capital for your company.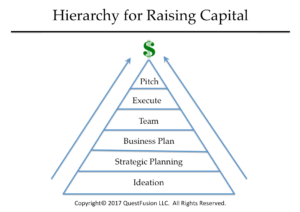 In PLAN COMMIT WIN®, I've codified a process of efficiently and effectively ascending the hierarchy of raising capital.  Implementing these steps will not only get you to the top of the pyramid, it will also get the right investors into your company.  The same process also dramatically increases your chances of business success, and improves your confidence and credibility with outside investors.  This is yet another reason why PLAN COMMIT WIN® enhances your chances of getting funded.
I'm asking you to support the Kickstarter campaign for PLAN COMMIT WIN®.  The primary audience for this book is startup CEOs and company founders intending to raise outside capital for their companies.  The book will be especially helpful for first-time entrepreneurs, technical founders, and serial entrepreneurs who haven't had their first success.  Significant parts of the book are also relevant for small to mid-size business owners who have domain expertise, but lack some of the business fundamentals needed to successfully launch and grow their businesses.
PLAN COMMIT WIN® – Chapter List
Introduction
Acknowledgements
Forward
Chapter 1 – The Hierarchy of Raising Capital
Chapter 2 – It All Starts with an Idea
Chapter 3 – The Foundation of Any Good Plan
Chapter 4 – Assessing the Landscape
Chapter 5 – Available Provisions for the Journey
Chapter 6 – Focus on the Destination
Chapter 7 – Necessary Resources to Succeed
Chapter 8 – Getting Specific about Your Plan
Chapter 9 – Building a Winning Team
Chapter 10 – Culture of Getting Things Done
Chapter 11 – Attracting the Right Investors
This is Patrick Henry, CEO of QuestFusion, with The Real Deal…What Matters.