"Productivity is never an accident. It is always the result of a commitment to excellence, intelligent planning, and focused effort." – Paul J. Meyer
Coworking spaces in Southern California are on the rise, and it is no surprise that it is an important part of the freelance and startup ecosystem. DeskMag found that over half (53%) of coworking users are from the freelancing community. While these independent workers and self-employed professionals make up the bulk of the coworking crowd, the remainder are entrepreneurs and employees from businesses both small and large. Mobile workers also fall into this category.
In a September 2015 article in the Harvard Business Review, Why People Thrive in Coworking Spaces, the authors state, "Our research suggests that the combination of a well-designed work environment and a well-curated work experience are part of the reason people who cowork demonstrate higher levels of thriving than their office-based counteraparts."
As shown in the infographic, based on data collected by DaskMag in their 2015 Survey, the use of coworking spaces is on the rise in the US and globally. As you can see, Asia has the most members in a coworking space on average. JustCo is a company that helps to provide such spaces in cities like Taipei – 台北共享辦公室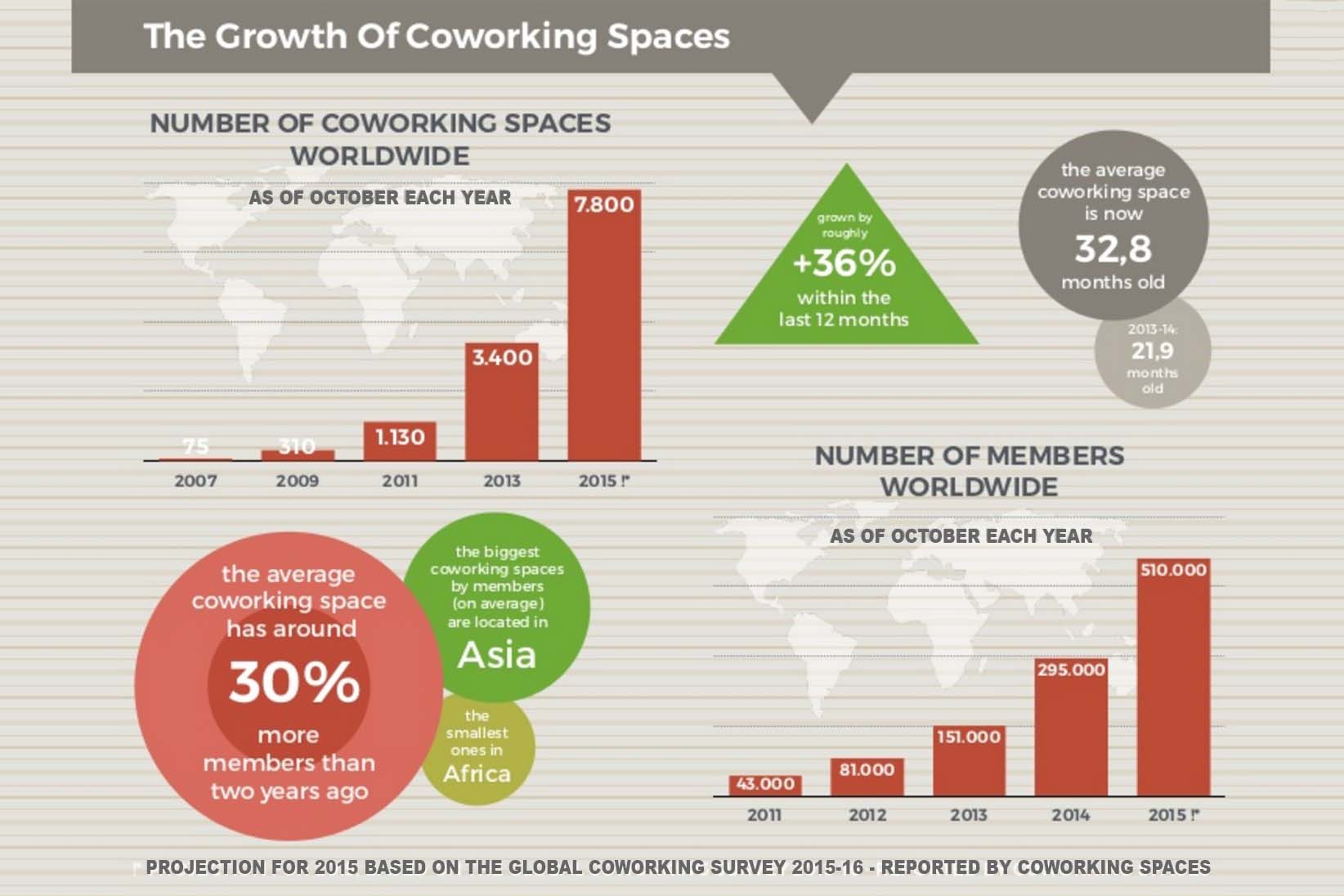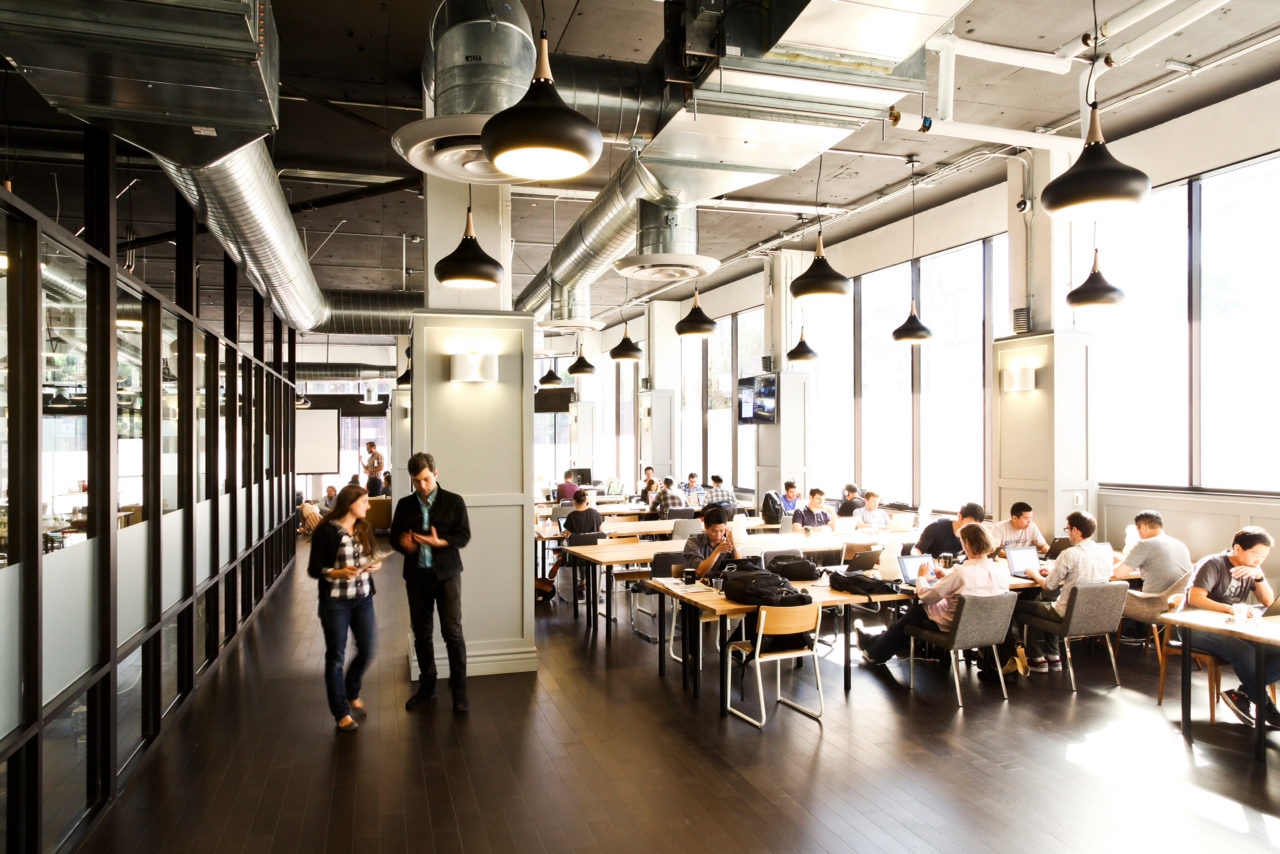 Coworking spaces are an important part of the startup and entrepreneurship ecosystem, so we looked around and found the top 25 shared office spaces, accelerators, and coworking spaces in Southern California. In no particular order, here there are:
1. Cross Campus
929 Colorado Avenue, Santa Monica, CA 90401
Cross Campus is one of Los Angeles' largest and most prominent co-working spaces with over 13,000 sq ft of fully equipped office space! They provide mentoring and regularly host a number of public speakers and events. It is extremely popular for its wide array of amenities including valet parking and complimentary craft beer on tap.
2. Coloft
920 Santa Monica Blvd, Santa Monica, CA 90401
Coloft is admired for being so close to the beach and 3rd Street Promenade. However, it's personality and office amenities are huge attractions too. Coloft provides free expert advice; whether you need to speak with an attorney or an accountant, Coloft can provide it all!
3. Working Village
212 Marine St, Santa Monica, CA 90405
Working Village is a small, family-run office space. But don't knock it because of its size. Members love their reasonable prices and the family feel. Working Village also provides complimentary conference room time as an added bonus with its membership.
4. Nextspace
1600 Main St, Venice, CA 90291
9415 Culver Blvd, Culver City, CA 90232
Nextspace has two of the most prominent locations in Los Angeles. Located in the center of both Venice and Culver City, Nextspace offers a bright, modern and hip place to work. Members love the proximity to all of the restaurants and bars and the list of amenities (such as the zip-car) seems to be never-ending.
5. Wework
7083 Hollywood Blvd, Los Angeles, CA 90028
Centered in the heart of Hollywood, Wework attracts the entertainers, filmmakers, production companies and everyone else that you can think of in Hollywood. Wework knows it's audience and is equipped with a game room that has a shuffleboard, foosball tables and it's very own arcade! Don't worry about getting too sweaty either because Wework even has showers!
6. The Hub LA
830 Traction Ave Ste 3a, Los Angeles, CA 90013
The Hub LA calls itself a "cafe, innovation lab, business accelerator, serviced office, and community center." The Hub exists to provide its members with an all-inclusive work station ("a hub") to accelerate their ideas and their business.
7. Real Office Centers
604 Arizona Ave, Santa Monica, CA 90401
Real Office Centers welcomes every type of professional and entrepreneur. Their goal is to provide an environment that promotes and stimulates creativity, collaboration and growth amongst like-minded people. Some of its most well-known members include: Amazon Media Group, Uber and Expedia.
8. Indie Desk
816 S. Broadway, Los Angeles, CA. 90014
Alert to all Designers and Fashionistas! Indie Desk is the perfect work space for the creative type, being just a short walk away from the Fashion District. Indie Desk works to foster and inspire creativity in people and companies alike, bringing ideas to life!
9. KleverDog
418 Bamboo Lane Ste A, Los Angeles, CA 90012
Kleverdog offers cost-effective work stations for all kinds of aspiring entrepreneurs and freelancers. With its location being within walking distance from Chinatown and all of its restaurants and attractions, Kleverdog is particularly popular among many.
10. Jellyfish Cartel
Atwater Village, Los Angeles, CA 90039
Jellyfish is a co-working space focused and centered on art and design, and specifically aimed towards artists. The space itself is well-designed, innovative and imaginative with sculptures that look like jellyfish hanging from the ceilings.
11. Opodz
362 E. 2nd St, Los Angeles, CA 90012
Opodz is a creative-shared workplace serving the downtown Los Angeles and Little Tokyo Arts District. The environment allows its members to focus on what is really important, and that is, collaboration with other like-minded people to fuel creativity and ideas.
12. The Vine at The Irvine Company
101 W Broadway, Suite 1105, San Diego CA, 92101
5151 California Avenue, Irvine CA, 92617
The Vine at the Irvine Company supports the development of personal and business relationships of all kinds. The modern, state-of-the-art environment is the perfect place to network and collaborate with other professionals. They provide flexible month-to-month lease office rentals to accommodate a number of professionals.
13. Kohwork'n
375 S. Rancho Santa Fe Road, San Marcos, CA 92069
Kohwork'n was established to give people the ability to work in a structured environment while maintaining the level of comfort as they would have if they were to work from home. Kohwork'n is most popular among web developers and designers, however its main goal is to expand its network as much as possible so it invites every type of professional, freelancer, business owner or aspiring entrepreneur out there!
14. Coworking Connection
25185 Madison Ave, Murrieta, CA 92562
Coworking Connection is committed to providing a flexible and convenient, while also productive work space for members to network and join together to empower one another to achieve success. Coworking Connection focuses on working efficiently – remember: time is money!
15. Flip Work
448 S. Hill Street, Los Angeles, CA 90013
Flip Work believes that when you work hard, you should play hard. Although the outside of the building may be old and charming, the inside provides a very different cool and contemporary feel. The game room featuring an air hockey table, a pool table and multiple foosball tables is a huge hit!
16. Boxaplex
Santa Monica Blvd & N Harper Ave, West Hollywood, CA 90046
Boxaplex's contemporary, loft-like office space, in the heart of West Hollywood is, you could say, heaven for those media "junkies" and some of LA's most innovative startups. It is even pet friendly, oh, and there is plenty of great natural light too!
17. Blankspaces
5405 Wilshire Blvd, Los Angeles, CA 90036
1450 2nd Street, Santa Monica, CA 90401
To distinguish themselves, Blankspaces came up with the tag line "You work for yourself, not by yourself". Blankspaces is committed to providing the resources, visibility and community to put people in the right place, with the right people, to be able to take the leap and succeed in getting their business to that next level.
18. theOffice
256 26th Street Suite 101, Santa Monica, CA 90402
theOffice is a quiet, coworking hub of creativity and connectivity. The membership consists uniquely of authors, screenwriters, journalists and others with similar interests. It is not like the typical coworking space. theOffice simply provides a space for people who are serious about their work, to work in. There is no networking or conversation.
19. Encinitas Technology Center
533 2nd St, Encinitas, CA 92024
Encinitas Technology Center provides work stations that are highly affordable and suitable for IT technology start-up companies, Programmers, Network Engineers, Technical Writers, Graphic Designers, Web Developers and IT technicians.
20. EpicSpaces
680 E Colorado Blvd, Pasadena, CA 91101
EpicSpaces caters to professionals from all industries including: designers, attorneys, accountants, consultants, contractors, freelancers and students. EpicSpaces promotes diversity and learning from one another across industries. EpicSpaces unique belief is centered upon the concept that "the sum is greater than its parts".
21. Wayfare
270 Baker St E, Costa Mesa, CA 92626
Wayfare is a coworking space that provides a comfortable, lounge type setting for people to come together to work, learn and share ideas with one another. They give you the comfort of being at home without the isolation. Wayfare is known for frequently hosting a variety of fundraisers, workshops and other types of events. For members, these are provided at a discount rate.
22. Batch
204 E 4th St, Santa Ana, CA 92701
Do you enjoy working at your local coffee shop but realize that it is just too loud, too busy or you drop connection too much? Well Batch has the answer! Batch offers workstations, providing you with all that is good about working in a coffee shop while giving you much more space so you are not over-crowded or distracted. Their high-speed internet ensures you won't keep losing connection either!
23. CrashLabs
234 E 17th St, Costa Mesa, CA 92627
CrashLabs invites you to come and "crash" with them at their work space. They are all about flexibility, accessibility and efficiency. CrashLabs offers drop in rates as low as $5, making it highly affordable and easy as can be for just about anyone to swing by with their laptop and get some work done in their lab.
24. PeopleSpace
1691 Kettering St, Irvine, CA 92614
PeopleSpace is committed to providing the best and highest quality in education, workshops and events to better help individuals and companies alike, sharpen their tools and skills to better themselves and grow their business'. PeopleSpace is tailored mainly towards those with an interest in technology, computers, science and art.
25. Regus
17901 Von Karman Ave, Irvine, CA 92614
Regus has over 3,000 coworking office space locations throughout the United States. Their goal is to accommodate every single business professional everywhere. They do this by providing them with a calm, professional and fully equipped office space where they can get instant access, focus, get collected and get serious about their work. Their tag line states: "wherever business takes you, there will be a Regus Business Center nearby".
This is Patrick Henry, CEO of QuestFusion, with The Real Deal…What Matters.