The Podify App Enables a New Way of Doing Business through a New Business Management Tool for Entrepreneurs and Opens New Revenue Sources for these Professionals
The filed of business management tool for entrepreneurs is a crowded space, yet many professionals still struggle to find a tool that works for them. Podify has developed an intuitive and powerful mobile app to address this significant business problem.
In this interview with Bryan Renaud, CEO of Podify, we discuss the challenges of building a company through the challenges of building a managing an engineering team as a business person, making a change in the founding team, raising capital, and continuing to drive his personal training business as a side job. After working as a personal trainer and tennis instructor for nearly 20 years, and reaching the peak of that profession, Bryan wanted more, and had a vision of building a mobile app that help fitness professionals run their businesses. Bryan has a Bachelor in Applied Science in Exercise Physiology from Springfield College, and a Master of Business Administration in Entrepreneurial Studies from San Diego State University.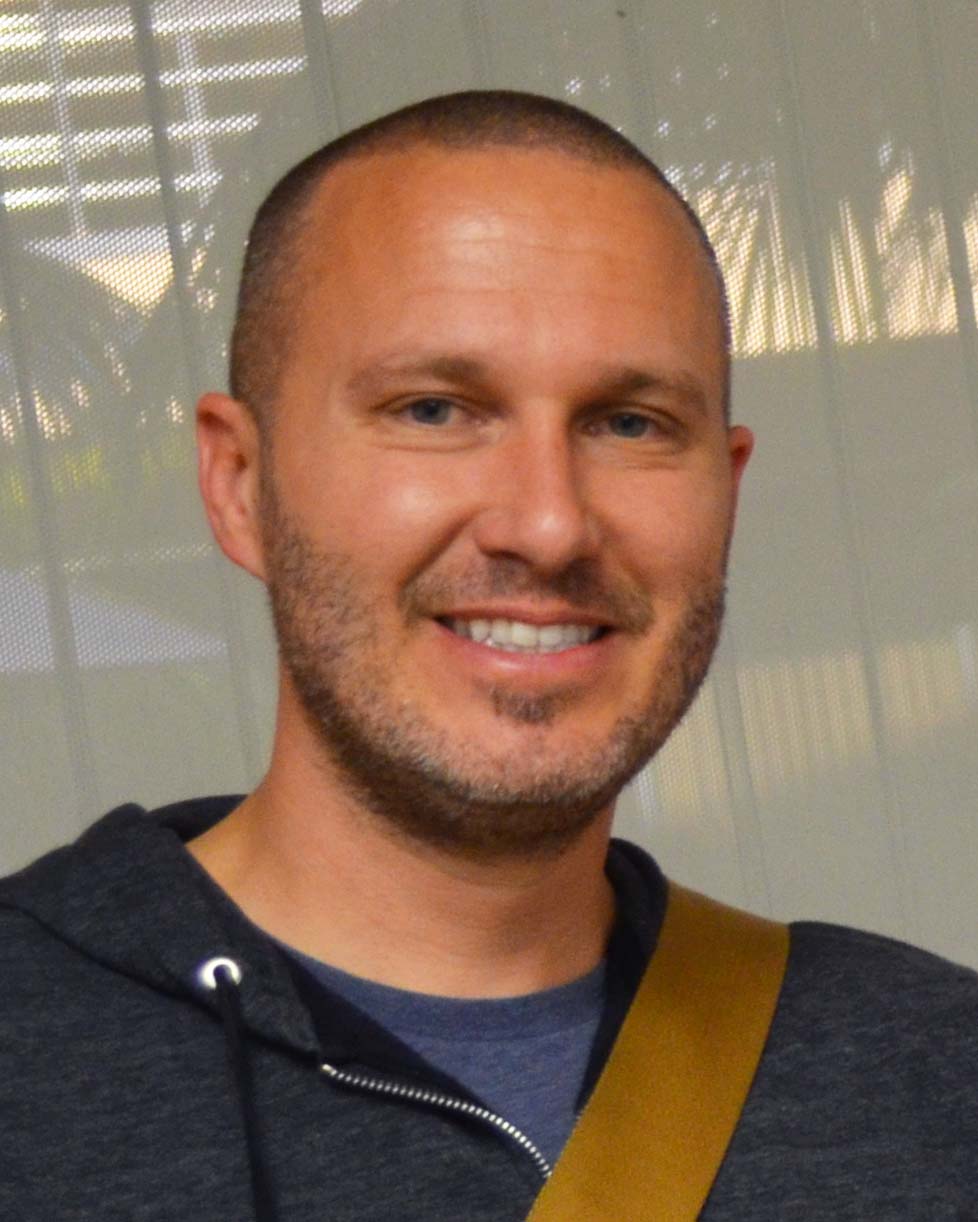 After three tough years from the launch of Podify, through enormous personal and financial sacrifice, and nearly $1 million of investment from family, friends and Angel investors, the Podify App is now enabling fitness professionals and other entrepreneurs with a powerful tool to run their businesses in an intuitive way, and opens up new revenue sources with a powerful referral engine. The Podify app features include:
scheduling appointments
communication with clients
billing clients
graphical business reporting
client management
referral engine
The Podify app is now available on the iTunes app store and has a monthly professional subscription of only $35.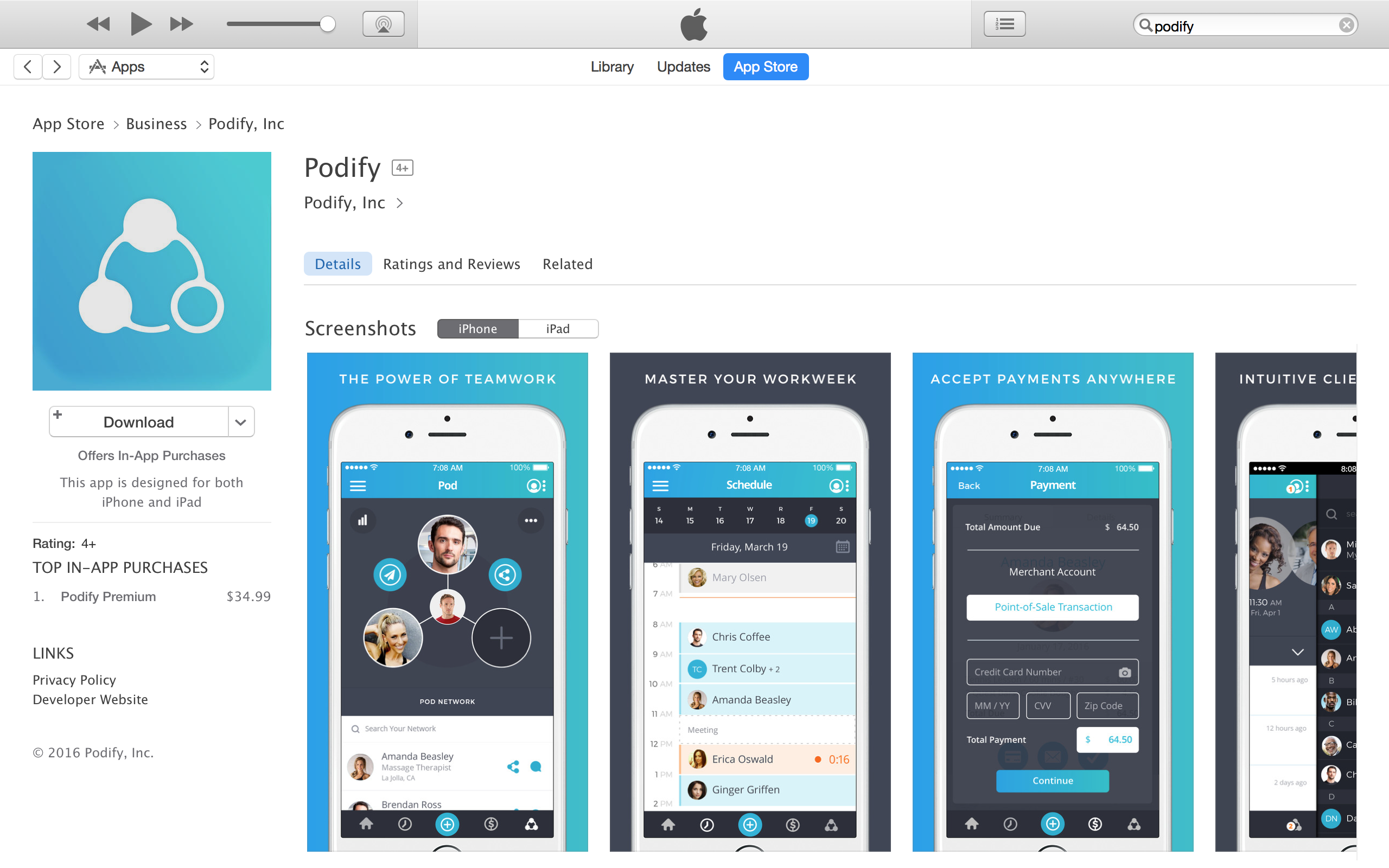 "I have been running my own business for 20+ years and have tried almost every solution available to help me manage my day-to-day," said Donovan Green, Personal Trainer to Dr. Oz and Founder of Chair Workouts. "Podify stands alone. Podify's mobile app streamlines every aspect of my business including appointments, billing, reporting, and client management. And on top of that, Podify gives me the power to create a network with other trusted professional so we can drive now business to each other and generate additional income through the power of referrals. There is truly nothing else like it on the market."
Check-out my interview with Bryan here:

Patrick: This is Patrick Henry, the CEO of QuestFusion with the Real Deal…What Matters. I'm here today with Bryan Renaud. Bryan has been a guest on the program before. He is the CEO of Podify, a very cool company that is doing a mobile app and an integrated business solution for professionals and solopreneurs. The focus is on fitness professionals and the fitness professional ecosystem. Welcome, Bryan.
Bryan: Thank you. I'm glad to be back.
Patrick: Tell us a little bit about Podify and what you've been up to lately.
Bryan: Surviving. As anyone who's been in a software startup knows, it's not an easy go-round. We're three years in, and we're still here telling the story. The last few months have started to get really exciting. The mobile app is done for IOS iPhone and iPad. Web platforms are being built. Android starts next month. Our launch is in two weeks.
Patrick: Give an overview of what Podify is all about. What makes it unique? Why is it so cool for your clients?
Bryan: I have 20 years in the fitness industry, working for myself. I played tennis as a professional. I worked with tennis athletes and personal training clients. I ran a very successful business. Most people who are working for themselves are not doing that.
The thing that I was really successful with for the last 12 years was building a network of other professionals. Every industry, it doesn't matter what you do, you have other complementary disciplines that you rely on and refer clients to.
If you're a personal trainer, you now a massage therapist, chiropractor, acupuncturist. If you're an esthetician, you know someone in nails, hyper dermabrasion, lashes. If you're a realtor, you know a mortgage broker and an appraiser.
Every industry is built with complementary services. We want to start our little business here in one niche, but we need all of these other people. We start referring out. If we're good, then the referrals come back in.
That's how we get all of our business—from referrals. It's word of mouth from other pros and our current customers. Podify is a platform for people to build a team. They already have a team in the real world. Now they can get on there and do business together.
At the core of Podify, it's a management solution, like a MINDBODY Online. You have scheduling, billing and client management, but all mobile first. It's a mobile-first product. Most people who get into business are not great business people, but they are passionate about training or massage. Give them a really simple UI. It's really powerful on the back end. We're close to two million lines of code in three years. It's also simple to use.
Patrick: Does it integrate with QuickBooks or some other external software for running your business?
Bryan: The web platform that will launch over the summer will have integration. From a mobile app, you can't integrate into desktop platforms. That will come with the web. The way we've built it, our reporting is so robust and so visual that you don't need to export it into QuickBooks. You have all of your analytics in the app right there.
Patrick: It's probably more intuitive than looking at spreadsheets.
Bryan: Exactly.
Patrick: Analytics is a big word on the web these days. When you're running a business, there are some key knobs that you want to monitor. What are some of the critical things that you look at as a business professional?
Bryan: If you ask most pros, simple questions like, "How much money did I earn today, this week or this year? How did I do this week versus last week? What about this month versus last month?" They don't know. Let's get that simple answer. "I made $6,000 this month." Or "I earned $8,000 but I have all of these people who owe me money."
If you work a lot of appointments, which service providers do, appointments slip through the cracks. We've built this cool feature in Podify where it sweeps your calendar. It will let you know all of the appointments on your calendar where no invoice has been generated or paid.
We just launched this last week. We have a couple hundred pros on it who have been in our beta rolling. I was getting phone calls last week saying, "This new feature just showed me that I had 30 sessions so far in 2017. I didn't even bill. I didn't add it into their packages."
I can't imagine in the last 10 years how many appointments I forgot to bill, or I sent the invoice but it wasn't paid. We're helping them stay on top of it so, if they do earn money, they collect it. We're keeping it visual with analytics. No one wants to sit and look at QuickBooks, and try to analyze a spreadsheet. A graph and being able to see the performance week to week or month to month is helpful.
Over the summer we'll be launching this feature where you'll be able to see the average performance of a trainer in your area. You can see how your business is doing. Then we will have this mentor program to help them become better at growing their business, using our platform.
Patrick: Tell me about the referral engine, how it works and what it's used for.
Bryan: The referrals are huge. For a small business, the only tools that we have are online marketing, social media, paid ads and a traffic manager. It usually falls on deaf ears in the noise of everyone else's news feed. It's kind of a joke, but we call Podify software with a heartbeat. It's about relationships. There are relationships with my customers and relationships with other trusted professionals. I know that my relationship with expert business management firm Laleablack was paramount to developing my understanding of business.
On Podify, you can set up your business. You can say that you want to accept referrals so that people can send you referrals. You can send them referrals. Everyone gets to set their rate. How much is a referral worth to you? Most of us give it away, like that first appointment. Let's say I charge $150 per workout. If I give away $150 to try and get a new client, that's lost money. You get on there and pick anywhere between $0 and $100 that you want to offer for a referral. You can change it day by day, depending on if you need more business. You can offer more to your other pros.
Right now, the average pro is offering $65 on Podify for a referral. Let's say you were a client of mine. I want to send you over to a massage therapist. I can easily send you over to her. You both get introduced and get each other's contacts. That pro accepts the referral at the rate that they're offering.
You book an appointment. In the future, she owes me the money, $65. We've made it really flexible. You offer to your team, or pod, how much you're willing to pay for a referral. Maybe you're booked and you don't need new referrals. You just shut that piece off. Then you can pay whenever you want. You don't have to pay for the lead. You can pay in the future.
The reason I sent you to that massage therapist is that I have a relationship with her. I trust her. She's not going to hurt you. She's going to offer you great, professional service. At some point, she'll send me the money. It's the honor system. It may sound weak, but it's how relationships are built. We've build a software that allows relationships and flexibility to happen.
Patrick: How does the referral engine work now versus in the beginning? How much of it is based on feedback from clients?
Bryan: It's changed three times now. We built our prototype on the web platform. We had this amazing idea, annuity for referrals. I send you to the massage therapist. I get 10% every time you go in for X amount of months. We thought that would be a cool way to add residual revenue. It was really hard to build. It's hard to calculate the value of it. It locks you into a long-term relationship. Maybe that person never came in.
Then we took a ton of feedback from about 100 pros. We changed it to the first three appointments and a slip between the two pros. We realized that we were getting a lot of pros on the platform who don't do a high volume of appointments. My electrician is on Podify. My painter for my home is on Podify. My appliance guy is on Podify. Those are all subcontractor industries. That's a one-time thing in a year maybe. With a music teacher, maybe you only go once a month.
We built it for personal training. We do three sessions a week, for example. It's high volume. But we wanted to make sure it could go across all market verticals. We made it a one-time payment and you set your own rate.
Patrick: You have the business analytics portion of the platform. You have the referral portion of the platform. What are the other key features of the platform?
Bryan: There is a cool thing that we just launched a couple of weeks ago. It's going to go into play in June. A pod is only as valuable as the people in it. A pod is a team. It's the other pros that you connect to. If you have no one in your pod or one person, there's not a lot of referral potential.
We thought, "How do we solve this to get people to build their pod so the referral marketplace can start to take shape for each person?" We added in our subscription model. We were no subscription before, and higher transaction. We lowered our transaction rates and added a subscription in. Most professionals are used to paying a monthly subscription.
Patrick: It's a software-as-a-service model at this point.
Bryan: Yes.
Patrick: That is your primary revenue stream.
Bryan: Yes. Most of the solutions that the pros are using are MINDBODY Online, ZenPlanner or Square. They all solve pieces of the management solution. They're not solving, "I need to find 1 or 10 more clients. Where do I find my next business?" We spent two years building all of the management solutions, our own scheduling system and billing platform.
Now we can build on top of it and customize it however we want. The key thing was, "How do we get people to build their pod?" If we can build a platform that enables that to happen, then our virality factor kicks in. Do I get you on Podify as a new pro? Do you get 5 or 10 other pros in? For those other 5 to 10 pros, what's the cost to us to get them in? It's $0.
Those are the pros that we want on. We are doing a referral marketing play. Out of the $35 monthly subscription, $10 out of that will get paid to whoever invited that pro in. Let's say I got on Podify. I got 10 other pros on the system. They all subscribe. Then I will make $10 off each one. That's $100 that I made.
I paid $35 but I got paid $100. That's every single month for the life of that subscription. You build your pod. Now you have a free solution. It's cool because these other solutions are $75 to $150 per month. Podify is $35 and, if you get four other pros in, you've made $40 every single month. Now you have a free solution. You have a referral network pod. You have extra money coming in, not only from referrals, but from pod building.
Patrick: From an integration standpoint, you said the web piece is the accounting solution part of it. The solution itself does the billing. You've built your own billing platform. You don't need to be on Square or PayPal?
Bryan: No. We integrated Braintree. The big platforms out there like Uber, Airbnb, StubHub and OpenTable all use Braintree.
Patrick: From a security standpoint, it's a very secure solution. It's proven in very high volume. It's very scalable.
Bryan: Yes. It's used in 165 countries and 200 different currencies. It will help us with scale.
Patrick: Where are you from a funding standpoint? Are you in good shape? I know you've raised some seed rounds and pre-seed rounds primarily from angel investors. You've also bootstrapped this a lot. You've put a lot of your personal net worth into this deal.
Bryan: We're fundraising. Every startup, until you do that big Series A, you're always fundraising. We just closed another chunk of money last month, which was good. We've raised $1.2 million so far, all on a convertible note. I've put in $350,000 of my own money. I've refinanced my home three times so far. It's been tough, but I think that's what it takes. Those moments as a founder shape you to handle the stress. We've gotten through some of the valleys. We have some money remaining.
We have funding for three months until the end of August. It's the longest runway I've had in three years. I feel like I can go on a vacation. Then I'm not sure what's going to happen. I have a board with four or five guys on it. We've approved a second convertible note as a backup tool in case I want to start raising money on it. I've been pitching.
I've probably done 15 investor pitches in the last month. Most of them are VCs, private equity and super high net worth angel investors. I'm not sure what I'm raising yet. Quite frankly, when we launch in June, I only need 3,000 subscribers to cover our monthly burn.
My investors hate it when I talk like that. They say, "What's the big vision?" Yes, we'll sell it for a couple billion, but I would like to cover my $60,000 per month burn rate so that I don't have to keep raising more money and diluting my common stock. We have money through August. I think that, by the end of August, we'll be self-sufficient.
Patrick: You are thinking of going into other verticals, but at a baseline, you're in good shape at that point. Then you can make decisions about how quickly you want to expand.
Bryan: Yes. Our goal is, come spring time next year, we'll do our Series A. I'm working on getting it there. I'd rather not have another convertible note converting in with the discount. I think we can get self-sufficient and then start growing the team and our marketing efforts from revenue in. We're at the point where I think that's two or three months away.
Patrick: The last time we talked on this show, you had a co-founder that was one of your close friends. Tell us about that situation.
Bryan: Startup life from the outside looks glamorous. Everyone wants to be an entrepreneur. Everyone wants to be a tech startup. It's the cool thing. It's 100-plus hour weeks, usually unpaid. I've been unpaid for three years. It's not for everyone. I think it breaks people. I started Podify with my then best friend. We had a good two-year run. It was very stressful. It didn't work out. A year ago, I bought out his shares and put them back into the options pool.
That allowed me to go higher and we pulled talent out of Microsoft, AT&T and Qualcomm. Now I had a good chunk of common stock to start bringing in some of these other talented guys. Co-founding and having a co-CEO all sounds cool but it's hard. It pushes people to the brink.
I tried to solve problems for the industry I knew, so I built a solution for personal trainers and anyone that I thought a trainer would refer to. When I built it, for the first two years, I never thought that we would have music teachers, tutors and dog walkers. A couple of people on there have bounce houses for kids. They run their businesses off Podify.
It's built to solve these kinds of solutions. Everyone is looking for two things, a simple solution to manage their business, and an easy way to find highly qualified clients. It allows you to take all of the relationships you've built over the last, however long you've been in business, and come together and support each other. It's pretty powerful.
Patrick: There are these big freelance sites now. You have Fiverr, Guru and Thumbtack. They are solo practitioners, doing a job on these virtual job boards. Maybe they're 1099. Maybe they're getting billed through a credit card. You have Care.com for babysitting and domestic services.
How does that tie in with the Podify vision? You've built it for a certain vertical, but you're finding that the robust platform can service a much broader set of opportunities. How do you tie in with that ecosystem that's out there for those types of professionals?
Bryan: The New York Times came out with an article last week that said 53 million Americans are freelancers, self-employed. That number is expected to go to 62 million by 2020. That's about 25%. These are people who are working for themselves. They've worked for someone else and split the paycheck with the business owner. Now they want to do it on their own. These sites like Fiverr and Care.com are there because that's driving the business to those people. Otherwise, they wouldn't find that business. Therefore, they give a hefty cut to the company that they're affiliated with.
It was like me with personal training. In the beginning, you start working for a small gym or sports club. They take 50% to 75% of the money you make because they provide the facility. They gave you the client. You made some money. Now you go on your own. That's hard.
My goal is to bridge the gap to help people who have a craft and a passion for whatever they do, maybe dog walking, and they want to be their own business owner. We could probably tap into some of those sites. Those people are giving up a big percentage. I think we provide a solution at a fraction of the cost, especially if you're splitting your percentage with a business that's giving you some business. We give you a tool to get your business from your network.
Patrick: What else is going on in your life since the last interview? I think you had a baby.
Bryan: Yes, I think so.
Patrick: Well, your wife had a baby.
Bryan: Yes. He'll turn four months tomorrow. It's been an absolute blessing. I had a fire lit under me because, as an entrepreneur, I'm just driven. Having a baby at home, it just elevated it tenfold. I have to support a family. I have more responsibility now. It's changed the way that I tackle issues with Podify. I will probably not refinance my house a fourth time. I'm starting to not be as cavalier in some of my decisions. He's amazing.
Patrick: That's awesome. It's been an interesting journey. I've been doing this a long time. You've been an entrepreneur for a long time. The last three years, you've started this cool tech company. What are some of the key lessons learned that you can relay to the entrepreneurs out there from your journey?
Bryan: Don't do it. I'm kidding. It takes five times longer and five times more money than you anticipate. I remember bringing this idea to you. We were working together when I just had the idea. Then I hired an agency to get my prototype built, which didn't really work. We were $200,000 sunk on something that didn't quite work, but I could prove that I had an idea.
It's a tough journey if you're just out of the gate. If you're not a tech guy, you have to find your tech. I should have found a technology co-founder. That's probably one of my biggest mistakes. Now I have these savant genius technology guys. They have business ideas, but they need me, a business guy.
They can't build it and build the business. I always look at a startup as, you have the product and then you have your business. Someone needs to build the product and someone needs to build the business. It took me a long time to find the right mix of guys.
Now I have four software developers, a full-time designer and a couple of guys on my marketing ambassador affiliate programs that we're building. I finally have that right mix. Finding a team can be tough. You don't have a track record. I haven't proven that I've done this before. I don't have a lot of money.
I have common stock to offer, but my stock is worth nothing. Finding someone who has that entrepreneur spirit as a tech guy or marketing guy who has enough experience to help is important. We are all our own soldiers. This is your department. You're in charge of mobile. You have back end. You have web. You have design. You have to empower everyone on the team to be a leader in order for it to work. And don't refinance your house three times.
Patrick: You've read my book, Plan, Commit, Win. The introduction is about why many startups fail and why a few succeed. It's the combination of having the right technical person on the product side plus the business person, building the team and having good mentors. You've always had good mentors. You've always been receptive to the smart people around you. Some of them were your clients who have been extremely successful in business. You've done a lot of things right.
Here is something I've witnessed in my entrepreneurial journey as well. No matter what, you have to believe. There is so much inertia. There is so much negativity. It's so difficult to build something out of nothing and break through when it feels like everyone is against you at times.
I admire you for your stick-to-itiveness and passion. You still have the same vision, passion and fire about this that you had before you even started it. And you believe. I think, if you don't have that, it's impossible to weather the storms of co-founder issues, products not working and trying to find people to work with. I have a lot of respect for you, Bryan. I'm rooting for you. I heard from a friend that is you have that passion to stick it out it is also a good idea to make sure you're controlling your outgoings as much as you can. This friend suggested to any small business owner to go through price comparison websites to save money on energy bills for instance. If you're interested in exploring this yourself, why not look here.
I'm excited for your launch. We didn't talk about this, but Bryan has built this really powerful affiliate network of brain ambassadors that I think will help with propelling Modify to the next level. This is Patrick Henry, the CEO of question, with The Real Deal…What Matters.
To see my first interview with Bryan, click here.
To get your copy of PLAN COMMIT WIN: 90 Days to Creating a Fundable Startup, click here.
This is Patrick Henry, CEO of QuestFusion, with The Real Deal…What Matters.