QuestFusion bases our guidance on decades of running businesses, building companies, and raising capital to fuel growth. Specific services include:
Business Plan Writing
Executive Summaries
Investor Pitch Decks
Business Plan Reviews
Financial Model Preparation
Processes for Defining & Tracking Key Milestone
Presentation Coaching
Advising CEOs on Funding Strategy
Identification of Strategic Partnerships for Your Company
We work with all stages of startups and emerging growth companies. We provide tools and processes that were designed for startups and battle tested in startup environments. We work with companies on the implementation aspects of their business strategy including guidance on raising growth capital, market expansion, and possible exit options. Please contact us for a complementary business plan assessment, or download our FREE guide:
What is Business Consulting?
Business consulting for startups and growth stage companies is about working closely with entrepreneurs to provide guidance and advisory services to dramatically improve your company prospects of being successful and raising needed growth capital. Building and running a successful startup is hard work. It takes tenacity, focus, passion, patience, perseverance, planning, and promotion. Some of the most critical elements of running a startup include setting the vision, building the strategy, driving your marketing and product development programs, and raising capital for your company. One great idea for starting up a business is using a website, this will reach out to the audience more as a lot of people now use technology and the internet, as well this makes it easier for your clients or customers to access what they're after. And don't worry, their are IT specialists out there like Servium who can help you out with how to control or fix your website if needed. There are plenty of other strategies out there though for you to try and capture your target audience.
There is a hierarchy of requirements for raising outside capital for your company. The foundation is a solid idea and a strategic plan. You then build a business plan, outline your plan of execution, your team & core competencies, and put it all into a pitch deck suitable for prospective investors.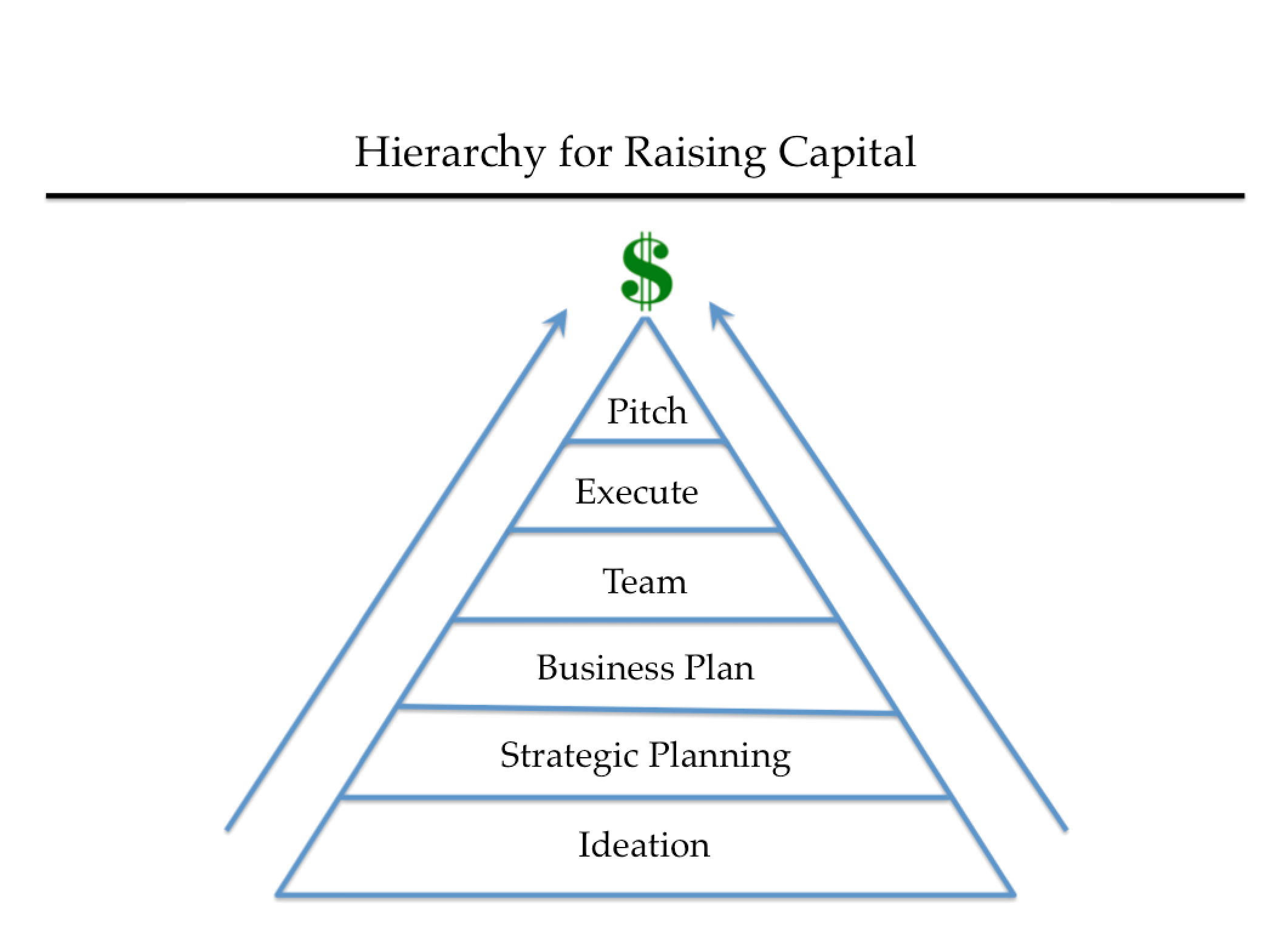 QuestFusion has develop a proprietary process, known as the PLAN COMMIT WIN® Methodology, that we use with startups and growth companies to massively improve their chances of being successful and raising the capital they need to fuel their business growth.

What is Strategic Planning?
Strategic planning is the foundation and execution map for any solid business. As a leader of any company, especially a startup or growth company, you need to look over the horizon and see the future, and within an instant, be able to focus on a critically important, very specific, short-term task. I call this agility in vision. It is the ability to go from a 30,000-foot view to a ground level view, and up to 5,000 feet, and back down.
Strategic Planning: The 30,000-Foot View
Strategic planning is about the 30,000-Foot view. It is typically a forecast and projection of what you think will happen and how you want to react to the a business situation over the planning cycle, which is typically three years. Now I have heard some leaders of startup incubators advocating the abandonment of strategic planning in favor of…I'm not quite sure what. The theory is that a new startup doesn't know enough about their customers and how they will accept their product to be able to plan. Therefore, they should focus solely on understanding the customer problem and ensuring that your solution solves that problem. Well, I call that planning. I also think it is critically important in building a business that you try to solve problems that have a long life and solutions that can adapt to changing market requirements. This is also part of strategic planning. I am not an advocate of some bureaucratic and cumbersome planning process that takes months to complete, and is obsolete by the time you finish the plan. I propose a more streamlined process that I have found very useful with the startups that I have run.
A solid startup strategic planning process is essential for preparing a business plan that will withstand the scrutiny of outside investors. It should include a current situation analysis, financial goals, a winning product roadmap, identifying gaps in the plan & proposing resolutions to those gaps. Now, if you are a pre-seed stage company, and you are still in the initial ideation phase, don't spend a lot of time on building a full strategic plan. However, even during ideation, the principles of understanding the market, the customers, and the competitive landscape still apply. If you're thinking you could create a business, have a look in places like this that could help you start a business. Starting a business can be hard to get off the ground, but once you get a handle of what is needed and begin to see progress, you might find that you may want to expand your business and start thinking up some cool startups ideas when it comes to office space.
At the end of the strategic planning process you should have a three-year plan that has a description of your market, customers, the competitive landscape, your industry structure, and a SWOT (strengths/weaknesses/opportunities/threats) analysis.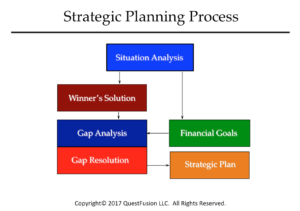 The Annual Operating Plan: The 5,000-Foot View
This strategic plan will serve as the basis for your Annual Operating Plan (AOP). This is the specific, month-by-month plan, with key milestones that you'll use to manage your business and track key milestones and accomplishments. Developing a company AOP is about taking your strategy and turning it into an actionable plan. It is about defining what success looks like in a way that you can be feel and measure.
What is the purpose of a Business Plan?
I business plan is the foundation of communication about your business with professional investors. Keep in mind that the business plan is a marketing document to help you raise capital for your company. The Business Plan is based on the output of your strategic Planning Process and the specifics in your AOP. Once you have a Business Plan, you can develop additional investor marketing tools including an Executive Summary and an Investor Presentation. We will go through what to include and not include in this important investor document, and how to selectively disclose information to prospective investors and you cultivate them and gage their interest.
Isn't a strategic and business planning process too burdensome and cumbersome for a small company?
QuestFusion is familiar with companies that have a culture of innovation. Developing an innovation strategy in an emerging technology company is not straightforward. At the same time, it is critical to build a commercial enterprise that has success. The business planning tools that we use are tailored in such a way as to not put too high a burden on the startup.
QuestFusion is also familiar with the process of navigating through rapid growth. Having growth strategies and a culture of strategic management are critical to these companies to maintain growth over the longer term. It is also critical to assess and manage risk.
How do you develop a Business Plan, a Business Model, and a Pitch Deck suited for raising capital for a startup or growth company?
QuestFusion can help. We are specialist in this area! Using business planning process and other tools we've developed and refined over the last two decades, we aid clients in being prepared to raise growth capital from the right investors.
QuestFusion works with growth stage startup companies to make a business plan outline that will aid in the process of product refinement, identifying key markets and customers, and thus streamlining the process for raising capital. This starts with a complete market assessment, situation analysis, product planning, identifying competitive advantages including the sustainability and layers of competitive advantages, and protection of intellectual property (IP). We will use our market knowledge and product validation tools to validate and add credibility to your business model.
How do I go about driving revenue, growing my business, and raising growth capital at the same time?
One of the most difficult aspects of starting up a company is finding the first customer and driving initial volume with them, while at the same time making sure the company has enough money. QuestFusion has decades of experience in doing just that. We will help you define and refine new product concepts, and refining the product plan for serving the target markets and customers, and outflanking the competition. QuestFusion will help your company build the right business partnerships that strengthen your competitive positioning and build depth in your customer relationships.
As hard as it is to get the first customer, it is just as difficult to drive your products and services into the broader market. QuestFusion can aid in this process. Our approach is to build the ecosystem of partners and customers in advance of initial product success to help drive revenue growth quickly for your company.
In this more rapid phase of growth it is critical to pursue new customers and new markets in a systematic way that can be supported by a young company without it being crushed by its own initial success. QuestFusion knows how to do this.?QuestFusion can also guide your company in raising capital during this the growth phase of your business. We can coach you through the process of building a business while raising money and doing it in the most efficient way possible.
Can QuestFusion advise my company in Exit Strategy alternatives and options?
QuestFusion will work with your company on exploring and helping to drive the right exit for your company. Patrick Henry, the CEO of QuestFusion, has bought and sold tens of companies, not as a banker, but as an operating executive and CEO. He also has experience in taking a company through the Initial Public Offering (IPO) process in NASDAQ. QuestFusion can help the founding team, the CEO assess options and provide a clear and comprehensive plan to the board of directors and investors in the company. There any many subtleties in this process and QuestFusion has the knowledge and experience necessary to help management teams navigate through this.
What makes QuestFusion different from other startup consultants?
Startup business consulting is a discipline that requires specialized management skills and an understanding of how to implement a specific business growth plan. QuestFusion works with entrepreneurs to attain the highest level of success within their target market. Large management consulting companies simply do not have the experience or market focus to help newly formed or emerging technology companies. Are you starting up a company, managing the challenges of getting your company off the ground, navigating through the initial growth phase, or finding the right exit strategy? We can help!
QuestFusion has vast operating experience in the CEO role at startups and emerging growth companies. We bring a practical approach and customization to the tools and frameworks essential for business planning in a startup. These business plan templates serve as a basis for developing the business plan. Specifically in the area of business planning, we have the background, knowledge, and experience of seeing what works in a startup and emerging growth environment, and what doesn't. We also know what is required in a business plan, including financial modeling, and a subsequent business strategy plan to get funding in the Angel Investor, Venture Capital, and Private Equity environments.
There are other business consulting firms in San Diego, Orange County, and Los Angeles. Some have excellent executive coaches human resources and psychology background, while others have consultants with some operational experience. Others have MBA with modest operational experience, but limited operating backgrounds. Some of these can be useful on some projects. None have the experience and background of QuestFusion that is specifically tailored to startups and emerging growth companies.
Patrick Henry, the CEO of QuestFusion, is a serial entrepreneur and has been the CEO of four startup companies. He has been involved in over $200 million of equity financings, and over $2 billion in M&A transactions as a senior executive and CEO. As the CEO of Entropic, Patrick and his team took the company from pre-product and pre-revenue to s successful IPO, and a $1 billion valuation.
Can QuestFusion help my company through change management or a pivot?
There are times when a company needs to change direction or change players on the management team. QuestFusion can help company founders and CEOs navigate through this process.
Aren't consulting services too expensive for startups and emerging growth companies?
In our business consulting practice, QuestFusion strives to bring the best business consulting services at competitive fees that deliver significant value for entrepreneurs and startup CEOs. We strive to bring best in class capabilities in a practical no-nonsense way at cost-effective management consulting rates. If you look at the opportunity cost and the lost time and productivity of trying to learn everything on your own, you can quickly justify the cost of getting the right advisory services for your business. We can right-size projects for your budget and requirements.