"There's no denying the facts: VCs are experts in financings and most entrepreneurs are not. For that reason alone, PLAN COMMIT WIN is a perfect guidebook for every start-up. Especially today, where it's hard to see how VCs and Angel investors decide to invest. Yes to this deal, no to that one. How to make sense of it all? PLAN COMMIT WIN is a must-read for every entrepreneur."
– Oren Klaff, Managing Director of Intersection Capital and author of Pitch Anything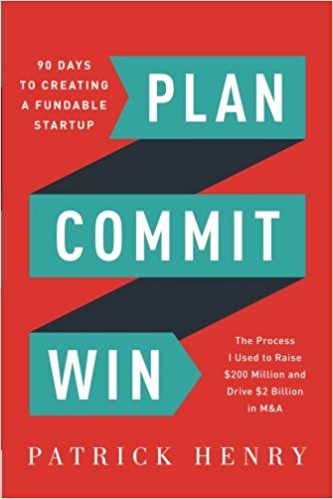 Who Should Read This Book?
Are you an entrepreneur that has a killer idea and you're looking for a way to take your company to the next level? Are you losing sleep over raising your next financing round? Have you established initial momentum with your product and you're now ready to raise some outside money to take your company to the next level?
You're not alone. There are thousands of entrepreneurs that are struggling to build their companies and raise money to fuel that growth.
This book is a blueprint for entrepreneurs, company founders, startup CEOs and business owners, to help them build more successful businesses and get them funded.
Raising outside capital for your company is a process, not an event.
In this eye-opening book, serial entrepreneur and former tech CEO, Patrick Henry explains how to build a fundable company. He reveals the truth about what investors are looking for and presents a three-part plan to smash through the typical business roadblocks, allowing you to move far beyond the bootstrapping stage.
Successful startups are first and foremost successful businesses.
The PLAN COMMIT WIN methodology will dramatically improve your chances of being successful and getting the money you need to fuel the growth of your business. The PLAN COMMIT WIN methodology is not a "pie in the sky" or theoretical approach to running businesses and raising capital. It is the same process that the author used to build successful businesses, raise over $200 million in equity capital for his companies, and execute in over $2 billion in M&A transactions. If you follow the steps of this process, you will significantly improve your chances of being successful, and dramatically improve your chances of getting funded.
How long does it take to implement this process?
It takes about 90 days to fully implement the PLAN COMMIT WIN methodology, assuming you are starting from scratch. If you already have a plan, you can still benefit from PLAN COMMIT WIN as a screening process to see what components you might be missing from your business plan or investor presentation. If you're an aspiring entrepreneur, company founder, startup CEO or business owner, this book is for YOU! If you want to have a winning startup company, raise enough cash to execute your plan, and succeed as an entrepreneur, there is a path, and it's in PLAN COMMIT WIN. If you are serious about building a billion-dollar company, then PLAN COMMIT WIN is the book that will help get you there.
Take action, build a successful business, and get it FUNDED!
So what's the NEXT STEP? Take action. Invest in yourself. Invest in your company. Invest in your future! Invest in PLAN COMMIT WIN!
If you have any questions, please contact me at patrick@questfusion.com