In a recent survey that I conducted with my network of CEOs, startup founders, executives, venture investors and high-level business service providers, I found some interesting and somewhat unexpected results as it relates to participation in mastermind peer groups. With the advent of more and more networking organizations and collaboration groups springing-up left and right, people can sometimes get confused about the definition, purpose and the value of peer support groups, also called mastermind groups.
What Mastermind Peer Groups are Not
A mastermind peer group is not executive coaching, it is not a class, it is not an advisory board, and it is not a networking group. However, many of the benefits that you get from these other types of groups can be found in a high functioning mastermind group with a good facilitator.
History of Mastermind Peer Groups
The idea of getting a group together with a common purpose in mind goes back centuries. I recall the bible verse, Matthew 18:20, which states, ""For where two or three have gathered together in My name, I am there in their midst." Now I'm not going to get "all religious" or "preachy" on you, I just bring out the point that this idea goes way back. Likely even before the citation above.
There are many examples of mastermind peer groups throughout history. A few of the most famous:
King Arthur and the Knights of the Round Table
Benjamin Franklin and his Junto that met on Friday evenings
The Vagabonds: Henry Ford, Thomas Edison, Warren G. Harding, and Harvey Firestone
There is something special that happens when you put two or three or more minds together with a common purpose in a supportive environment.
Formalization of the Mastermind Idea and Name
The formal concept of the "master mind alliance" was introduced by Napoleon Hill in his book from the 1920s, The Law of Success, and expanded upon in his 1930s book, Think And Grow Rich. As Napoleon Hill said, "Deliberately seek the company of people who influence you to think and act on building the life you desire." Hill goes on to say, "The Master Mind principle consists of an alliance of two or more minds working in perfect harmony for the attainment of a common definite objective. No two minds come together without a third invisible force, which may be likened to a 'third mind.' When a group of individual minds are coordinated and function in harmony, the increased energy created through that alliance becomes available to every individual in the group."
Practical Applications of Mastermind Peer Groups in Business
Mastermind peer groups offer a combination of brainstorming, education, peer accountability and support in a group setting to sharpen your business and personal skills. A mastermind group helps you and your mastermind group members achieve success. Participants challenge each other to set powerful goals, and more importantly, to accomplish them.
My Simple Survey About Mastermind Peer Groups
I recently conducted a short survey of three questions to my network. They are as follows:
Have you ever been in a peer group before?
Are you interested in joining a peer group?
Are you in a peer group now?
The answers to these questions, and in some cases the lack of answers, was quite instructive. Keep in mind, this was not a survey to the general population.  The focus was on CEOs, company founders, executive, venture investors, and high level business service providers like bankers and attorneys. Here are the results in four simple graphs.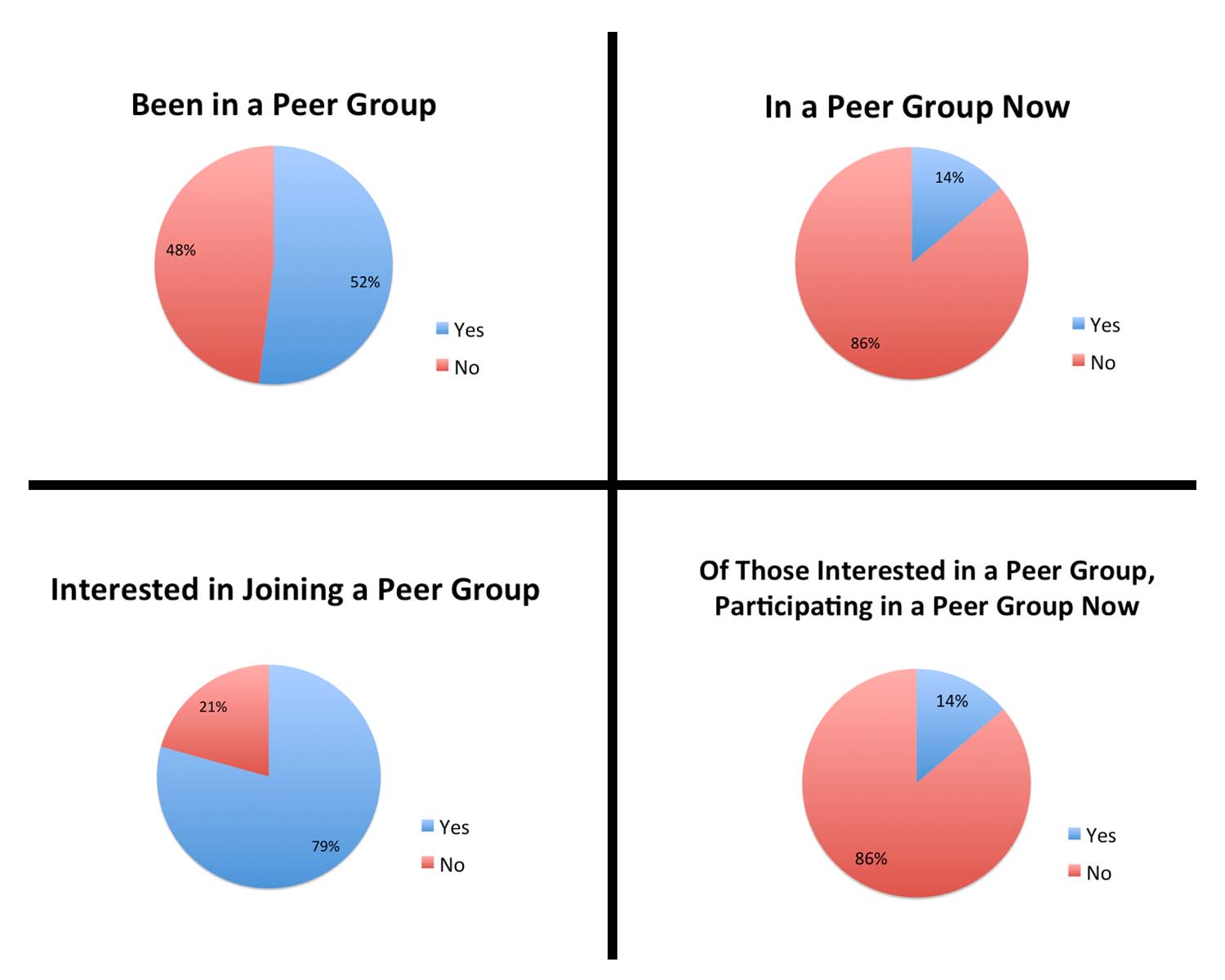 First, I was very surprised by the level of engagement and quality of answers that I got to this survey. Based on open rates and comments on my monthly newsletter, I expected to get very few responses. In fact, I got nearly 100 responses! I don't survey my network a lot, so I'm not sure if the high response rate was due to the strength of my relationships within my network, or just the level of interest in this topic.
To be completely transparent, if someone said that they may be interested in joining a peer group, I considered that a yes, albeit a qualified yes.
Answers That I Didn't Get
One thing that was really interesting to me is that I have a target list of 30 startup CEOs and founders that I think could benefit the most from being in a peer group, and only two of them responded to the survey! That is under 7 percent!
What Is Holding People Back?
I also got some great qualitative feedback from my network. There are four things are preventing people from joining peer groups:
Don't Know What They Are
Time Commitment
Monetary Cost
Assessment of Value
I think the most instructive thing from the survey is that there is widespread interest in peer support groups if you can justify the time commitment and cost. This ties directly to the assessment of value. If you can spend a half a day a week and $600 a month to be 3X to 10X more effective and productive as a business leader, wouldn't you do that without hesitation? I sure would. In fact, I have.
So making sure you are in the right peer group, with the right members and right facilitator that can deliver the value is key.
Can You Have Mastermind Peer Groups "Virtually"
There is no substitute for sitting down face-to-face with your peers, breaking bread, and look each other in the eyes month after month. There is no substitute for this experience. That said, there can be tremendous value in Facebook and LinkedIn groups if they are properly designed and managed. Even Twitter Chats can be of value, along with Quora sessions. However, they are not a substitute for a peer group that meets face-to-face in support of the goals of the individuals and common goals of the group.
How Would You Answer the Three Questions?
I am very curious about your thoughts on mastermind peer groups. How would you answer the three questions:
Have you ever been in a peer group before?
Are you interested in joining a peer group?
Are you in a peer group now?
As I get a critical mass of feedback, I will update this post. I hope that each and every one of you makes the decision to join a peer group that help you to reach your goals and avoid many of the pitfalls and mistakes that can be avoided by heeding sage advice. In my experience, having a strong mentor, being a mentor, and being in a peer support group can massively improve and accelerate your path to success. Do an experiment. Try it for six months and let me know your results!
This is Patrick Henry, CEO of QuestFusion, with The Real Deal…What Matters.